DSD to Turnigy Accucell 6 balance charger mod
From richud.com
The original 18650/16340 DSD charger
The original piece of crap charger on the inside, image kindly borrowed from this candlepower forums post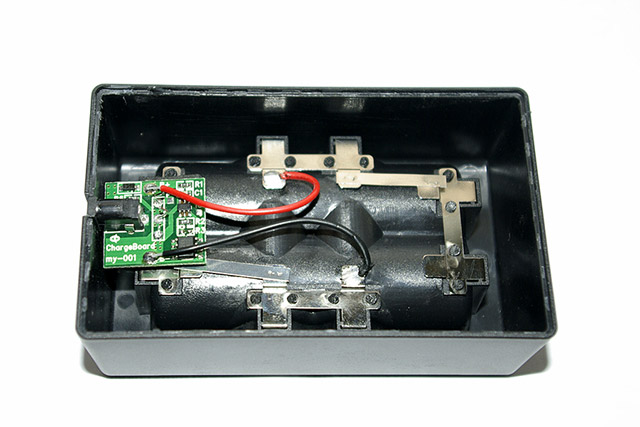 The Mod
Seemed a much better idea to use it as a holder for batteries to charge on the Turnigy Accucell 6. This is simple but looks complicated as lots of wires!
This allows to charge a single: 18650 or 16340(CR123) or AA or AAA.
This allows balance charging 2 x 18650 or 2 x 16340.
This basically converts it from Parallel to series charging + single cell charging via side addons (optional!)
Remove the circuit board and desolder the leads.
Very carefully mill/grind out the thin nickel coated steel? bridging joints - a Dremmel type tool very useful, (one from ALDI sufficed here ;)
Connect + to -'ive ends of one of the parallel cells with a stiff copper wire (makes it easy to do) - inside of an old analogue TV coax cable good here. [If you do this the right way around the + and - ends marked in the charger stay correct.] Soldering to the Nickel may be hard you ideally want some decent flux. - I used Carr's Green Flux
Using whatever suits you best attach AA, AAA, 16340, 18650 battery holders around the side. I couldn't find anywhere selling 18650 battery holders so have to cut a 16340 one in half and VERY carefully work out the spacing to take a 18650. These were all screwed in using screws with the flattest and thinnest heads I could find, screws from an old Dell laptop. (Simply drilled appropriately sized holes and force screwed them in making them self tap.)
Battery holders simply wire up to the + and -'ive entry points.
Slip heatshrink over the banana power lead and balance lead wire and put in where the old power jack was.
Solder a balance lead to +'ve and -'ive and the 'blue' wire to the middle.
Solder a banana lead in to the +'ve and -'ive (get 4mm banana to banana from eBay and chop in half, cheapest way to get gold connectors and decent build quality)
Zap heatshrink with your favorite gas burner - this thing is awesome!
Glue bottom back on with plastic cement (think it is ABS or something similar that is easy to weld)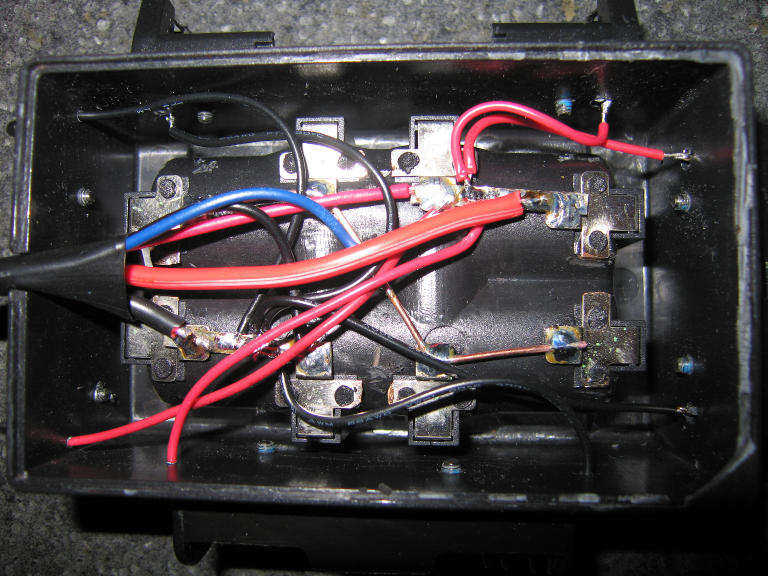 Balance charging two 18650's extracted from a Toshiba laptop battery pack.
The power supply is also from a Toshiba laptop, the connector having to be carefully ground smaller to fir in the Turnigy.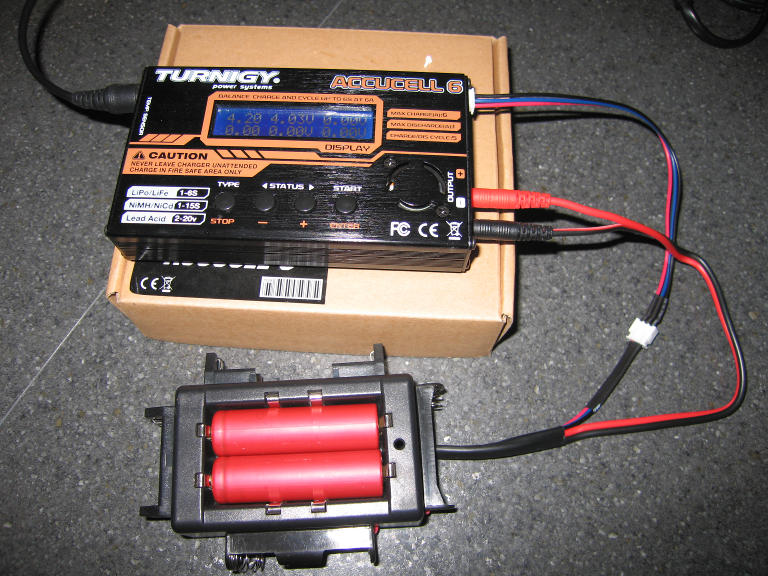 IMPORTANT WARNING
Charging NiMH single battery - it wont cut off!
There is something wrong with the Turnigy - apparently it will only cut off with high current to it (0.4ma on a single AAA wasnt enough) and you will also need to lower the peak delta cutoff - I haven't experimented with these suggestions yet so be warned!!!
References
Candlepower forums post about DSD charger Wikipedia List of battery sizes