HP/Compaq Presario v2000/m2000/dvXXXX/zeXXXX 104-Unsupported wireless FIX
Back to HP Pavilion (ze2000) ZE2005EA BIOS fix
Bought a (new) miniPCI card and been greeted with this?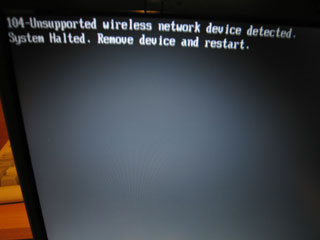 104-Unsupported wireless network device detected.
System Halted. Remove device and restart.


This info has been taken from a Compaq V2000 Pheonix BIOS supplied by Andy Schneider from his V2000.
Similarily it occurs in the BIOSCOD1.ROM section of the BIOS in a similar looking area.

BIOSCOD1.ROM extract in Editpad (from V2000)



VENDOR/DEVICE ID , SUBSYS ID

I have not yet heard back from Andy, but I imagine if you replace one of the codes similarily as with the HP ze2000 example, it will have the same result.

UPDATE 11/May/06 Chris R has successfully modded his Compaq V5000 to take a Prism GT based card.
UPDATE 06/May/06 Carol said she has successfully modified a HP Pavilion dv8000 and HP Compaq Presario V5000.
UPDATE 10/April/06 - Have just had an email from Jordan aka JtoP confirming a successfull mod of a V2000 F.22 BIOS with a Dell Truemobile 1450 mini PCI card.
BCM1450M, PCI\VEN_14E4&DEV_4324&SUBSYS_00031028
JtoP replaced E4 14 20 43 on 00002540 to E4 14 24 43, 3C 10 F8 12 on 00002580 to 28 10 03 00


FURTHER STUDY
----------------------------

I image it is also a similar case with all these mechanically similar notebooks, I would be interested to hear from anyone who has done it with one and will share the info on this site if they so wish.

HP Pavilion dv1000, ze2000, dv4000
and
Compaq Presario V2000, M2000, and V4000 series notebook PCs





Contact:
Mail me at anything to this domain.